Welcome to issue #9 of our recently launched Q&A series, Startup Spotlight.
This series is all about diving into the world-class technological innovation conducted by exciting UK startups. Getting to grips with the technology, the mission, and even the stories behind them.
In each edition, we sit down with a different startup founder, leader, or operator in an easily digestible conversational style Q&A format.
Today, we interviewed Robert Rizea, CEO of RacketPal.
Highlights
🏸 Why they're building a platform for racket-based sports
📈 How they grew 10X from 5,000 to 55,000 users
🚀 How they'll grow 10X from 55,000 to 500,000 users
Sports is ingrained into our culture in a vast array of forms. From football to surfing to running to curling. Just take a look at the Olympics!
So much so it can be overwhelming knowing what to pick, how to get started, and who to play with.
But RacketPal isn't like that.
RacketPal is an app purely for people who love to play squash, tennis, badminton, and other racket-based sports.
If you're looking to become more entwined with the local racket community in your neighbourhood, this is the one-stop shop for everything you'll ever need racket-related.
Today we interviewed Robert Rizea, CEO & Co-Founder of RacketPal, who is an avid squash fan and an ex-pro tennis player himself.
We asked him about RacketPal's journey. Let's dive in. 👇
Great to meet you! So, what's the mission of RacketPal?
The mission of RacketPal is to help people play more of the sports they love to, especially racket sports. By "racket" I mean tennis, badminton, table tennis, and squash.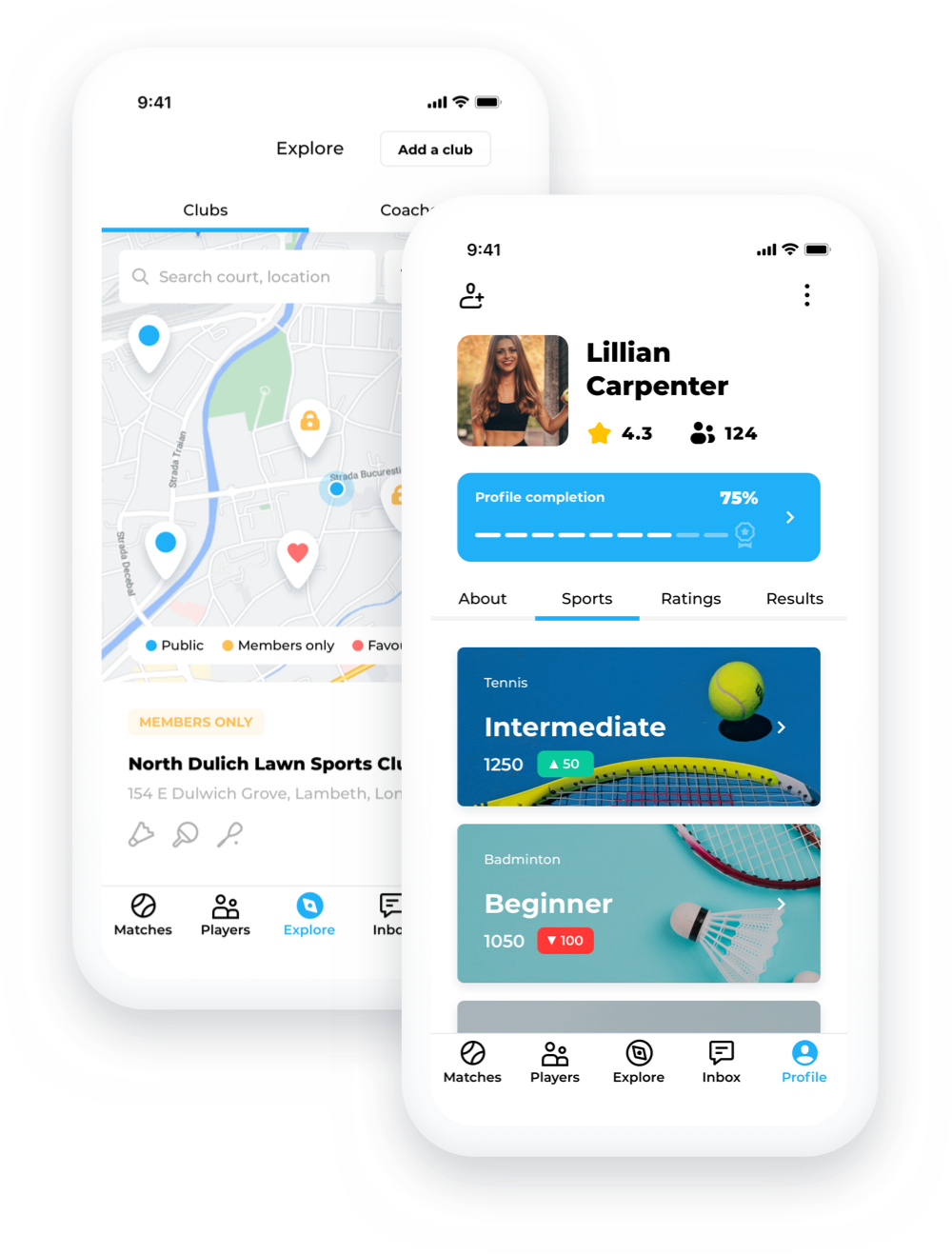 Nice. Why specifically racket sports?
I was an ex-pro tennis player. My co-founder is also a badminton player. This is the market we understand. And, it's a booming market—700 million people are playing racket sports worldwide. That's what we know and it's an underserved market.
Out of those 700 million, how many are suited to using RacketPal?
99.9% of that market are suited to using RacketPal.
People play for fun, non-competitively. I consider those people our potential target market.
To get the most out of RacketPal, does it require constant use? Is it a casual affair or something that needs dedication?
It's up to the user how much they play. We hope that wherever they play, if they don't have a partner, they'll find someone through the app. We hope that whenever they require a coach, they also find one through the app. Even if they already have a partner or a coach.
Of course, we would like people to play more often. And we do hope to improve that soon because it drives more engagement. The ultimate end goal is that we hope to be there for them whenever they need to play, or want to play.
What do you think your users value the most from RacketPal?
Our matchmaking platform. Connecting RacketPal users so they can play together.
Over the next 12 months our plans are to shift away from just matchmaking alone. To ensure people feel like they're part of a community.
Hopefully, this will be through gamification, through the social aspect of it. But currently, we're purely a matchmaker.
How are you using technology to build the ultimate racket sports matchmaking solution?
We have an Android and iOS app. They both have front and backend infrastructure that is easy to use from a user standpoint.
The user creates a profile, we ask a few questions, and we then match them up.
We have location integration, availability, and calendar integrations. We also ask users a few skill-based questions, so we can establish their ability level. There's a mathematical algorithm behind it.
We learned showing users a list of random people does not work. In a typical scenario, they're going to message a few and not hear back. So, they'll think RacketPal is not a good app in that situation.
Moving onto the design perspective, it's a simple UI. We hope it's easy to use, and we hope that while we expand it, we will keep it easy to use.
Let's talk about your USP. What have you got that others don't?
When I started out playing tennis, it was quite complicated for me to find a partner. There are Facebook groups, there are Meetup groups, there are WhatsApp groups, there weren't too many options.
It's always complicated with a Facebook group because you don't know the level of that person, and you don't know when they're available. You don't know where they plan to play, and you don't know their location.
We still have a lot of work to do as well.
I assume you also compete with physical racket clubs as well?
Even if you are part of a club, it doesn't solve your solution of finding someone. Clubs are completely non-digitalized, and they do not have the necessary matching and digital solutions for their members.
So actually, we don't see them as competitors. We see them as potential clients in the future. The app could be white labelled, so clubs can put their brand on it and offer their members use of it. They can organise their leagues or tournaments, track their scores, chat, and do everything else that you can do with RacketPal.
How have you acquired your current userbase?
Almost 50% of the userbase is organic. There's a virality aspect of people telling their friends, their colleagues. The rest comes from my digital marketing background, mainly from social media. It's 50/50. One half is organic and the other half is paid advertising on social media.
What has been your biggest challenge so far, with RacketPal?
If I'm not fundraising, I'm recruiting. Recruiting and finding people has been a challenge. We have a big team of 18 full-time people currently.
In addition to that, I'm looking after the finance side. We will need to find more specialised people that can help me on certain areas that I don't have as much expertise with.
What milestones have you achieved, and what's in the future for RacketPal?
We've gone from 5,000 to 55,000 users in one year. That's mainly London. So, we have 10x the users, and we plan to 10x in the next 12 to 16 months.
We want to expand to other cities in the UK. We plan to conquer the UK market by launching the social and community features over the next 16 months, as well as introducing monetisation.
We also want to look at other revenue models as well. You can make a lot of money from bookings and coaching lessons. In 5 years, we hope to become the biggest racket sports community on the planet.
That is the vision, and that's what we're going to achieve.
Thanks, Robert!
That's it for today! To receive further content like this (and more!) drop your email below. 👇