Welcome to issue #4 of our recently launched Q&A series, Startup Spotlight.
This series is all about diving into the world-class technological innovation conducted by exciting UK startups. Getting to grips with the technology, the mission, and even the stories behind them.
In each edition, we sit down with a different startup founder, leader, or operator in an easily digestible conversational style Q&A format.
Today, we interviewed Will Bateman, CEO of CCell, to find out how his company's technology is saving coastal hotspots around the world.
Highlights
🐠 How CCell's technology ecologically beats existing solutions
🔄 What a sales cycle looks like in the coastal defence market
💰 Why CCell is raising a crowdfunding round right now!
Did you know that beach erosion is a big problem for tourist hotspots around the world? Many beautiful sandy beaches are disappearing fast. Bigger waves, caused by climate change, are sweeping the sand offshore and out of reach.
Controlling waves has always been a way to defend our coasts. But it's always been… a bit awkward ecologically. Large chunks of rock or concrete, the legacy approach, are terrible for the environment.
So, what's the answer? How do we reduce wave intensity, in an environmentally sustainable manner?
➡️ Enter CCell.
CCell have invented a solution that can not only control waves sustainably but, one that also supports the growth of new aquatic ecosystems in the form of artificially nurtured living reefs.
By installing environmentally friendly artificial devices along coastlines, CCell are on a mission to revolutionise coastal defense. They're working with coastal communities in Mexico, Israel, and the UK that have suffered from severe beach erosion, and have many more sites planned across the globe.
But what are these artificial reefs?
How have they performed so far?
And, how much better are they than existing solutions?
We interviewed Will to find out. Here we go. 👇
Let's take it from the top. What problem are you solving with CCell?
There are three elements of environmental concerns that we're directly addressing: coastal erosion, the loss of marine biodiversity, and the fight to bring down global CO2 emissions.
How are you using technology to address this?
The main tech is the controlled electrolysis of seawater to create rock through a process known as mineral accretion. Electrolysis of seawater to promote mineral accretion isn't necessarily new, but doing this efficiently, and effectively, and on a consistent basis is a real challenge.
There are several parts to CCell. First it is the actual modelling of the real environment. We want to make sure that we're going to have a positive impact. The last thing we intend to do is put more rubbish in the ocean.
Second is the structure itself. How do you make a structure that is easy to manufacture, is easy to transport (because it stacks within a container) and is easy to install?
Next is the creation of new rocks. The great thing about the rocks we're growing is that they are formed from minerals that are naturally occurring in the seawater.
We're not introducing invasive materials. In fact, we're actually lowering the pH (locally to the regions where our reef structures are installed) thereby helping to offset the acidification of the sea..
The final part of the CCell solution are the sensors we incorporate into the reef. We've developed a system that we can communicate interactively with from anywhere! Ultimately, we're a platform that plugs into the Internet to provide an online monitoring pathway, to and from these sensors on the reef structures.
We're aware you've started a crowdfunding campaign. Where is the business now and what's next?
We're currently building coral hatcheries with institutes in Mexico. We will soon also start working with Cornell University, incorporating their acoustic technology into the reefs. In parallel, we sponsor work at the The Living Reef Foundation in Bermuda, who are using CCell technology, to study the accelerated growth of corals, while promoting genetic diversity.
A key objective is for these reefs to become a perfect habitat for fish and other marine life, while also becoming unmissable dive sites and snorkelling attractions so that they work towards sustaining the tourism industry around world-renowned coastal communities.
Where will the crowdfunded money be spent?
About a third of that money is going into marketing and sales, into creating a stream sales pipeline. A third is needed to support business operations and cash flow around new projects - for example we are having to forward buy microchips to protect ourselves from the global supply chain shortages.
In terms of the technology itself, we've won an Innovate UK grant, to research the use of used steel within our reefs alongside work to reduce steel usages. The focus is on making the reefs even more ecological. Our reefs already contain 96% less CO2 than conventional approaches like concrete blocks, but I would like to go further. In fact we want to get to a point where they absorb CO2, through the stimulation of a diverse marine ecosystem.
Let's talk about traditional methods for wave protection. Why aren't concrete blocks so great?
Arguably, if you drop a large enough concrete block into the ocean, then it will create an instant barrier. If it is correctly designed, it will start to provide protection against the waves, but there are a huge number of issues with these traditional approaches.
For starters, you'll have to figure out how you're actually going to get the large chunks of this rock or concrete, that isn't necessarily natural to the oceanic environment, into the ocean. Some of our clients have had to build entire piers just to get these materials into the sea.
In Israel, for example, they are destroying a hill over 200 miles from the coast and trucking it across the country in a desperate attempt at saving their coastline. When we analyse the impacts of these types of interventions, we also must look at the bigger picture and keep in mind that concrete and concrete production is known to be responsible for around 8% of the global CO2 emissions.
Our reefs have a relatively limited impact on the environment. Our one-hundred metre long structures can fit on a single truck and they can be installed by hand. In six months, we can grow enough rock to provide the barrier we want.
Safer and less destructive. Perfect! In addition to wave protection, there's also the massive upside of coral formation. How long does it take for the coral to form?
To view a substantially grown coral that starts its life as a minuscule polyp in one of our hatcheries, it is going to take roughly two years (depending largely on which species and in what conditions they are grown in). So that's around 2 years before it actually grows big enough to be easily recognised on the barrier; this is then the perfect moment to outplant them onto our reef structures for their continued growth.
Numerous people have taken to rescuing coral that has been broken from storms, accidents or adverse weather conditions. Using specialised equipment in a laboratory, they fragment the coral up into pieces that are roughly around an inch squared, which actually stimulates a rapid growth rate in some coral species. This technique is known as coral micro fragmentation and it is becoming increasingly popular in coral restoration efforts globally.
This rapid growth following their fragmentation is a natural repair mechanism of many coral species. It's comparable to when a gecko loses its tail, and then regrows it back at an astonishing rate. What we're doing is nurturing these coral species and monitoring their growth rates.
After a couple of months of rock growth on our reefs, divers can then attach young corals. The electrolysis provides a favourable environment for these corals to continue to grow and form their calcium carbonate exoskeletons, allowing them to grow at a faster rate than they would in nature.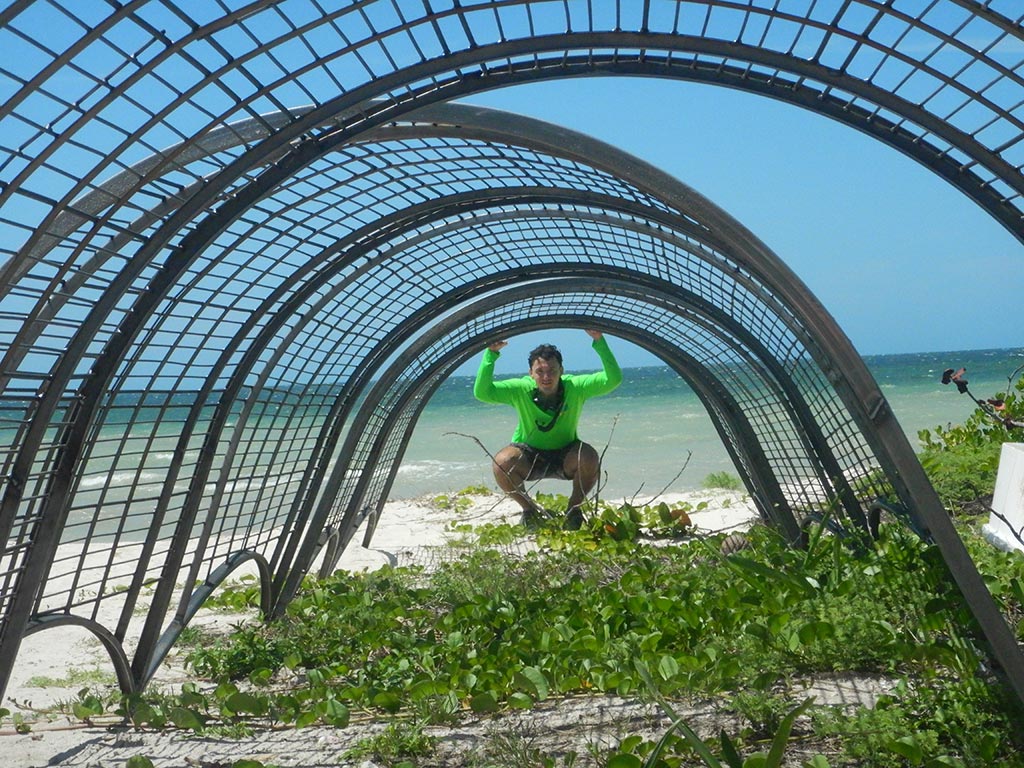 Let's talk business. Where are you in terms of product-market fit? How would you characterise that right now?
We're still at an early stage, and our current and potential clients not only want to see the complete working systems working, in terms of growing rock, but they also have a huge vested interest in seeing how our technology is going to benefit their coasts in the long-run. We're talking 5,10,20+ years into the future of sustainable coastal development and conservation.
We're about to do a big project in Israel, putting together a proposal for our technology to be implemented along the coasts of the Mediterranean Sea.
We currently have a number of pilot projects running in Mexico, along the Yucatan and Cancun coasts, where our clients have reported their satisfaction and appreciation of the reefs that we have installed. For various reasons, they are noticing an increase in fish populations. This is excellent for creating new snorkelling attractions and a big selling point in tackling their beach erosion concerns.
Having these pilots running so smoothly has motivated our team to bring our technology to other horizons; we are in talks with Terre Armee to partner with them and bring CCell to the coasts of the Indian ocean.
What is the sales cycle like for this type of solution?
Our solution is delivered in a number of stages, starting with an initial site survey, then customised design optimisation of our technology to suit the specific needs of our clients' coastal outlines, then comes the tedious task of applying for all the necessary permits.
Once we have been given the go ahead by the local environmental agencies and governments, we can then begin the manufacturing of our reef structures. Our aim is to cooperate with local partners to promote positive international partnerships - i.e. in Mexico, we're manufacturing our modular steel reef frames with Orcram.
Once the manufactured units arrive on site they can be installed quickly. In suitably wavy sites, we can also use our patented CCell wave paddle technology (that generates the renewable energy from the motion of the waves). Otherwise we install solar panels.
The cycle of sales is perpetuated annually through the ongoing monitoring of the reef installations and the coastal outline.
What has been the greatest challenge of your journey so far?
Doing anything underwater with electricity and seawater is always challenging. We've made mistakes, but overall we've learnt a great deal, which has helped to make the system increasingly robust.
Throughout the entire sales cycle, permitting is often the most challenging phase. In Mexico, we are working closely with the local government, the universities, and government scientists, to ensure we fully understand the local environment and regulations. This helps us to mitigate any potential issues well ahead of deployment.
Awesome. So, how can folks contribute to your crowdfunding campaign?
Head over to our crowdfunding page.
That's it for today! To receive further content like this (and more!) drop your email below. 👇